ANSI Y type strainer
Design Features:
The stainless steel mesh hole is 2-6 microns, and others can be possible to choose.
Big filtration area, doubled-deck screen which is made of stainless steel, simple and firm structure.
Resistant to dirt, easy installation and convenient maintenance.
Technical specification:
Size range : DN15-DN400
Class:class150lb-300lb
Temperature : -29-425 ℃
Materials : CI,DI, WCB, WC6,SS304,SS316,SS316L
Medium : Clear water, Sewage, Oil products(other flow media on request)
Application: Industry, Powerstations, Flue gas purification plant, processing technology, gas supply, vapour facilities, recycling facilities, vacuum facilities, hot water, heating technology, district heating, thermal oil applications, general plant manufacturing, etc. (other applications on request)
Design Standard: ASME B16.34
Face To Face: ANSI B16.10
Flange ends: ANSI B16.5
Test & Inspection: API 598
ANSI Y type strainer catalogue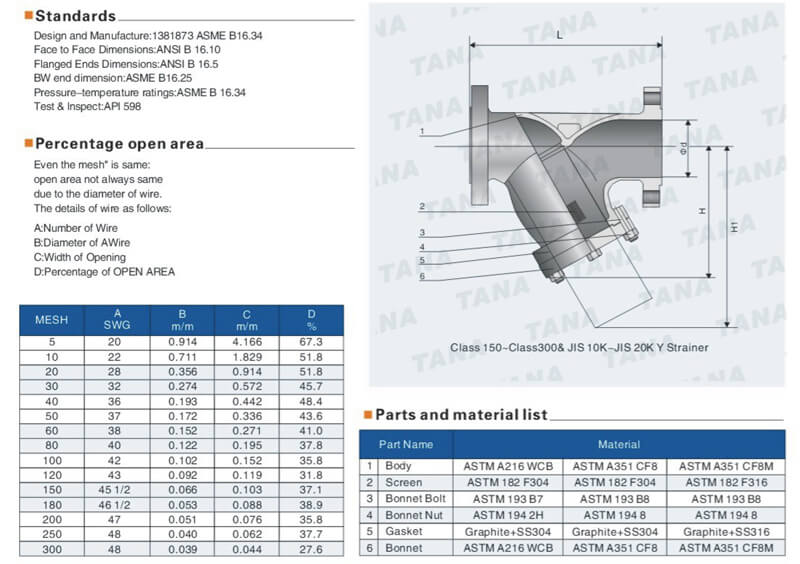 All The Y type strainers are epoxy painted, providing an increased resistance to rust and corrosion.
Screen in 304 or 316 material to ensure long life service.
For more details, please download the catalogue for reference or contact with us.
Wenzhou Topnotch Machine Co.,Ltd is a professional leader China ANSI Flanged Y type Strainer ,Y type strainer,Flanged Y Type Strainer,WCB Y type Strainer,carbon steel Y type Strainer,150lb Y-Strainer manufacturer with high quality and low price.Welcome to contact us!