Features
Material: WCB, F304,F316
Class: 150 - 300lbs , PN16-PN40
Size: 1/2''-6"
Standards: JB/T9093-99
End flange: ANSI B16.5
Free Float Steam Trap with built-in X-element type automatic air vent, for use on process equipment. Discharge 600-700kg per hour
ISO9001, API 6D, and CE
Working Principle:
By the action of buoyancy, the position of floating ball changes with the water level of condensation water and adjust the opening of valve seat automatically, continue to discharge condensation water, when the condensation water stops, the floating ball fall onto bottom by gravity, then close opening of drain valve. The opening of drain valve is below the water lever, and so the water is separated from steam automatically, and form water seal without steam leakage.
Structure Characteristics:
It can drain water continuously and perform in a stable way with large capacity and less steam loss.
It can saturate the water continuously, which makes less stock of condensation water in the equipment adn is quick in heating and stable in heating temperature.
It has automatic cold air vent device without air lock situation. it works in balanced way without noisy.
Performance Parameter/ Material List of Main Part:
| | | | |
| --- | --- | --- | --- |
| Mini Working Pressure | 0.01Mpa | Max allowable temperature for cast steel | 425℃ |
| Mini degree of super cooling | 0 | Max allowable temperature for stainless steel | 525℃ |
| Leakage rate with loading | 0 | Working Medium | Saturated vapor, condensed water |
| Maxi allowable rate of back pressure | 80% | Exhaust plant | Stainless steel / alloy |
| Valve body, cap | WCB / 304 | Floating ball | Stainless steel |
| Valve seat | 2Cr13 / 304 | Filter | Stainless steel |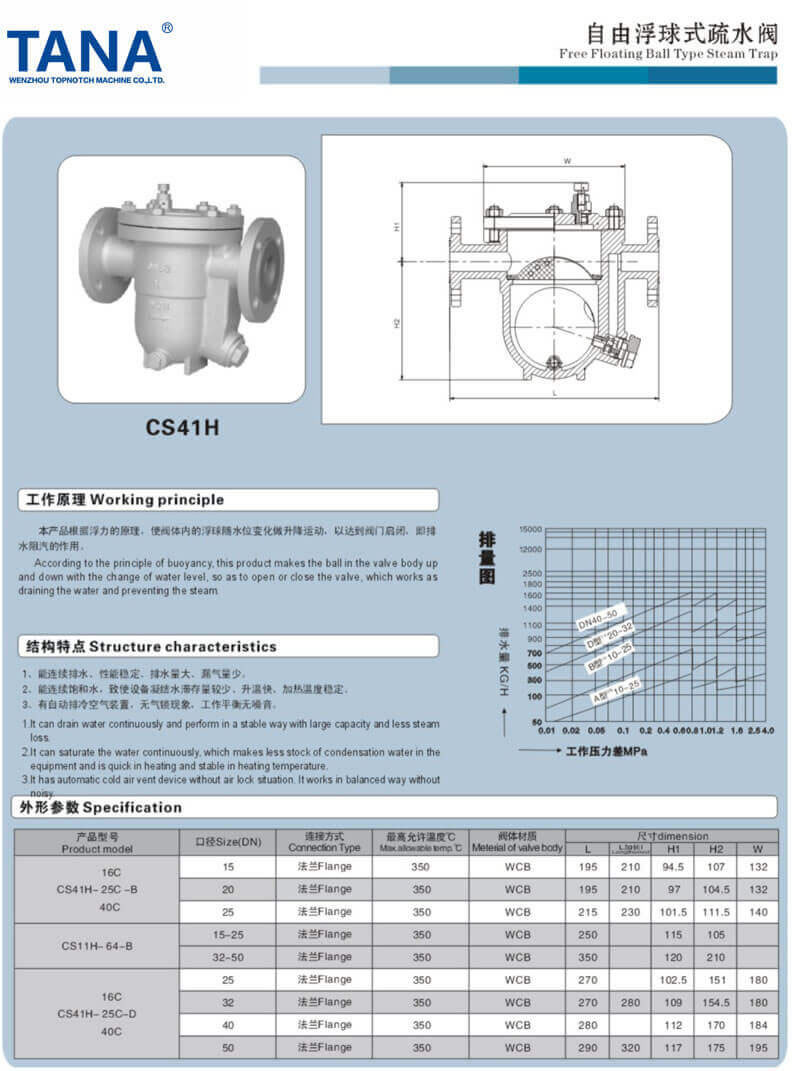 Wenzhou Topnotch Machine Co.,Ltd is a professional leader China Free float ball type steam traps ,Free float ball type steam traps,thread float ball steam traps,floating ball type steam traps,Free float ball steam traps,Flanged float ball steam traps manufacturer with high quality and low price.Welcome to contact us!