Features
Carbon steel design single-and double-acting cylinders,electroless nickel-plated to reduce the surface roughness and to provide minimun friction and maximun protection against corrosion.
Carbon steel piston with PTFE/rubber seals to reduce friction and avoid stick slip effect even after prolonged periods without operation.
Carbon steel,chromium-plated piston rod to prevent corrosion and to minimise sliding friction on the dynamic seals.
Visual position indicator directly connected to the valve stem showing actuator/valve full linear stroke.
Totally enclosed carbon steel spring cartridge with additional safety feature to avoid injury during the disasssembly of the spring enclosure.
Carbon steel open type adaptor with bottom flange machined according to the valve flange.
Actuators can bu fitted with handwheel or hydraulic manual overide on request.
Specifications
Linear Actuators
TANA Fluid systems manufactures a comprehensive range of double-acting and spring-return pneumatic and hydraulic actuators to suit all valve sizes.These units are specifically sized for each application.
Operating Pressure:
Pneumatic up to 12Bar (175psi)
Hydraulic up to 250 Bar(3625 psi)
Max.Thrust:
Pneumatic Double-Acting
1800000N (404656 lbs)
Pneumatic Spring-Return
400000N (89925 lbs)
Hydraulic Double-Acting
5500000N (1236450 lbs)
Hydraulic Spring-Return
400000N (89925 lbs)
Temperature Ranges:
Standard:-30 to 100℃
High:-20 to 160℃
Low:-40 to 160℃
Extreme Low:-60 to 160℃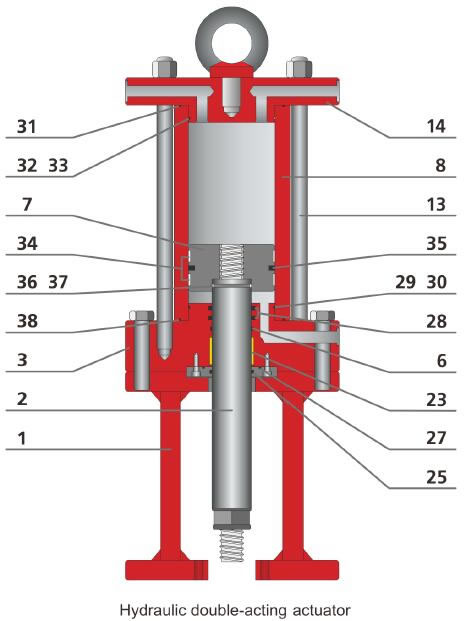 For more details, please download the catalogue for reference or contact with us.
Wenzhou Topnotch Machine Co.,Ltd is a professional leader China Linear motion cylinder,Linear motion cylinder for gate valve,cylinder type pneumatic actuator,Linear motion cylinder for globe valve,Linear motion pneumatic actuator,pneumatic cylinder manufacturer with high quality and low price.Welcome to contact us!