Spiral Wound Gasket with Inner And Outer Ring
Feature:
Little deterioration of the filler material at high temperature,oustanding long-term seal ability even under high temperatures and high pressures.
Sealing,especially gas sealing, is superior to that of asbestos gasket.
sealing remains outstanding even under servere conditions such as pressure fluctuations and heat cycles.
outstanding sealing even at cryogenic temperature.
Excellent seal ability is maintained making it possible to apply this for corrosive fluids by selecting the Appropriate materials.
Specifications
The main kind of Sprial Wound Gasket(SWG):
Products
Style
Flange
For example
Basic type SWG
1001
Tongue and Groove
304/PTFE
SWG with inner ring
1001 IR
Male and Female
304 304/FG
SWG with outer ring
1001 CR
Raised face Flat face
304/ASB CS
SWG with inner & outer rings
1001 IC
304 304/FG CS
SWG for heat exchanger
1001 H
Heat exchanger
304/FG with 1 bar of DJ
Special shape SWG
1001 S
Special
Oval
The main coefficient of four kinds Sprial Wound Gasket:
Style
Structure
Hoop material
Filler material
Inner & outer ring material
Normal thickness mm
Gasket
Inner & outer ring
1001
Without rings
304(L);316(L) 321;317L 31803 Monel, Ti,Ni INC Hast.C/B Zr702 etc.
Graphite, PTFE, Asbestos Non-asb Mica, etc
CS, 304(L), 316(L), 321;317L 31803 Ti,Ni INC Hast. Monel, Zr702
3.2 4.5 (0.175") 6.4
2 3 (1/8") 4
1001 IR
With inner ring
1001CR
With outer ring
1001 IC
With inner & outer rings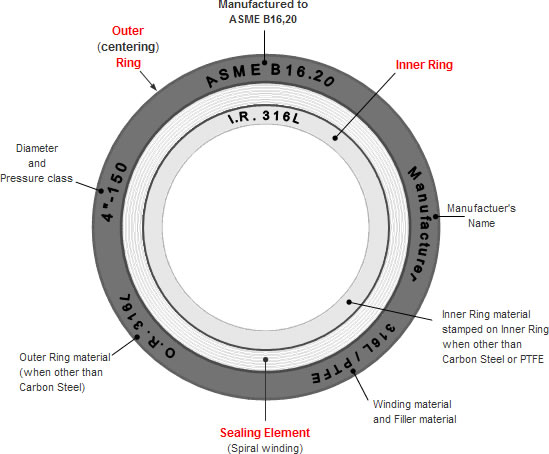 Product Keywords:flexitallic spiral wound gasket,flexible graphtite spiral wound gasket,flexible graphtite outer ring spiral wound gasket
Wenzhou Topnotch Machine Co.,Ltd is a professional leader China Flexitallic spiral wound gasket,Spiral wound gasket,head gasket,Spiral wound with graphite gasket,gasket sealant,Spiral wound flange gasket manufacturer with high quality and low price.Welcome to contact us!